Description
The RT Evolution 15 LTC is a 15-litre capacity, battery-powered (18V Li-Ion), electronically controlled sprayer that ensures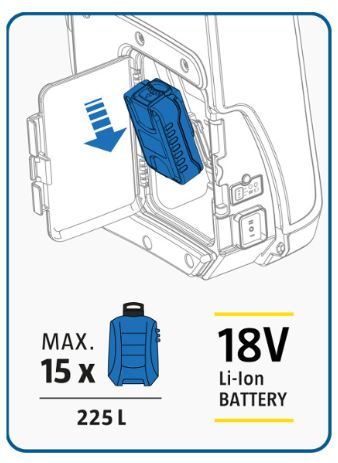 even spraying throughout the entire treatment. The battery will spray up-to 20 tank on a single charge
This profession sprayer has be specially designed for use in the professional amenity and horticulture sector. By replacing the need for pumping operators are able to spray more accurately and with greater levels of comfort
The simple control system allows users to select the most suitable operating mode for each type of application:
All RT Evolution knapsacks are supplied with  a specially selected range of nozzles a suit specific application situations
The anvil nozzles have swath widths of 50cm, 1m and 2m for application in linear areas e.g Fence lines, carparks etc. These are designed for the application of product such as Chikara, Hi-Aktiv, Trustee, Biograde or Biograde Home & Garden . The Anvil nozzles are also ideal for the application of  selective herbicides on turf and lawns. The full cone nozzle is for application around objects such as street furniture, trees. The flat fan nozzle is designed for the application of Enclean Biocide .