POGO helps Royal Norwich establish a benchmark course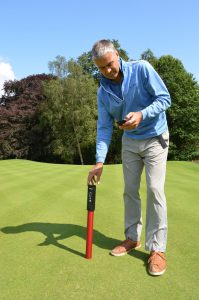 With the Royal Norwich [golf club] investing £15 million in its newly established 18-hole course at Weston Longville, on the outskirts of the Norfolk city, the cost of its Rigby Taylor POGO Pro soil and turf management meter pales into insignificance. But, says Estates Manager Peter Todd, "the value of the benefits that POGO brings are priceless".
He adds: "POGO has been indispensable in helping us to establish and maintain these new greens at a level to create a benchmark golf facility in the region."
Peter's enthusiasm for the potential of the site is also reflected in his views about POGO Pro and how the course – and its players – will benefit from the system's ability to measure the most influential variables governing turf performance; moisture, salinity, canopy temperature, nutrition and turf stress/disease, for example.
"Moisture management is critical on USGA greens so I needed a tool that would give me unquestionable and ultra-reliable data on the greens, which we gather daily. POGO Pro gives me exactly that. Importantly, the system is not just about enabling us to establish and maintain consistent playing conditions. It's also about helping us to manage our water usage much more efficiently and we will see the real rewards from that in the future."